Improve Home Entertainment With a Home Automation System
Spend more time enjoying your favorite music, movies, TV shows at home with high-quality AV installations and automated control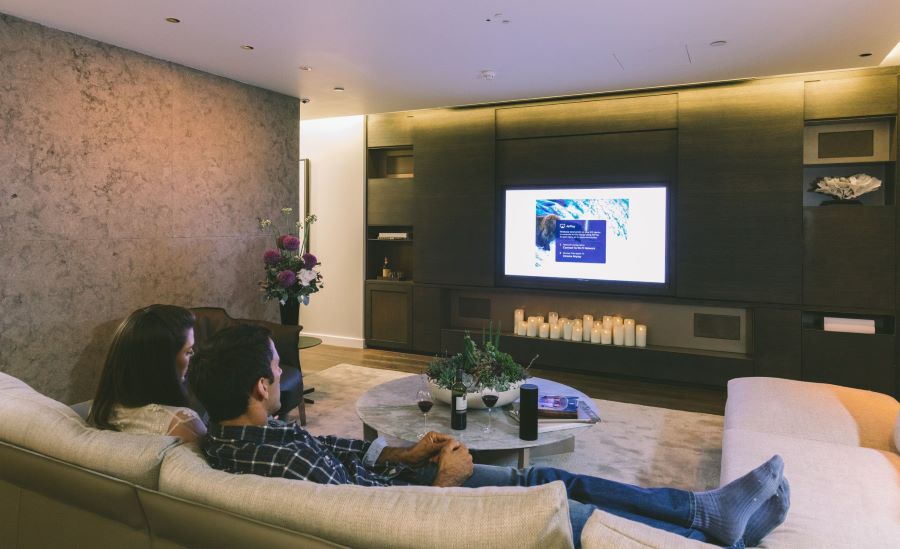 As the dangerous coronavirus continues to permeate our society in the second half of 2020, many of us in Sugar Land, TX, have come to accept that we'll be spending more time at home than initially anticipated. If you haven't already, now may be the right time to make some home entertainment upgrades to keep everyone in your family occupied.
Home automation systems can make the job even easier. Keep reading to learn three areas where automation improves comfort, convenience and fun.
SEE ALSO: Make Your Day a Bit Easier With a Home Automation System
Multi-Room Music
Access and control all the music in your home under one system. With audio distribution, you can enjoy music whenever and wherever you want. You can access to your entire music collection — streaming services, radio, CDs, even vinyl records — using a remote, touchscreen tablet or smartphone app. When you enter a room, simply pull up your home automation system on your smart device and tap play to start a song. Play music in multiple rooms at once, throughout the whole house, or have the music follow you as you move from room to room.
You can place speakers in any room of your home without changing the aesthetic of the space. At ASAP Security Services, we can install sleek in-wall and in-ceiling speakers or unobtrusive bookshelf speakers that match the furniture. Your central processing unit can remain tucked away in a storage closet. Our clutter-free designs leave you with plenty of room to dance your heart out!
Home Theater
While some movie theaters are slowly opening again in Texas, a spike in virus cases could cause a second shutdown. And you may not feel comfortable yet returning to public spaces with large groups of people. The great news is that you can create the perfect theater experience from home.
A home theater is custom-designed for maximum comfort and enjoyment based on your family's preferences. Spend quality time with the family watching Disney+ movies with a roll-down, large 4K projector and screen, surround-sound audio and plush theater-style seating. At ASAP Security Services, we design every theater room for optimal performance with strategic seating arrangements, speaker and screen placement, professional equipment calibration and acoustic treatments.
Integrate your theater system with home automation to control audio/video, lighting, temperature and more from one remote, touchscreen tablet or smartphone app. You can even create a "Movie Night" scene that sends your projector screen rolling down, dims the lights and adjusts the volume to your preferred setting with one tap on your smart device.
Outdoor Entertainment
We'll be moving into beautiful, mild autumn weather soon, so make sure your outdoor spaces have all the entertainment you need to enjoy more time outside. We can install weatherproof 4K TVs on your patio and a robust outdoor sound system throughout your patio, pool deck and backyard. And we'll connect it to your home automation system, so you can enjoy all the same great media both outdoors and in, using the smart device of your choice.

Ready to make the most of your time at home? At ASAP Security Services, we install and integrate home automation systems from leading brands like Control4, Savant and Crestron. Call us at (877) 418-ASAP or fill out an online contact form to set up a consultation with one of our experts. We look forward to hearing from you soon!

No video selected.