OpenEye Cloud Managed Video Surveillance
What is OpenEye?
OpenEye is the new, smarter way to manage multiple geographically dispersed video surveillance locations. OpenEye Web Services (OWS) lets you harness the power of the cloud for management while maintaining the security and performance of onsite video recording. OWS simplifies adding and removing users from the surveillance system centrally, as well as keeping all systems up-to-date with managed push software updates. Centralized health monitoring ensures cameras, recorders, and network connections are operating as they should, and problems are easily pinpointed for maintenance and fixes. Alerts and events can be sent to a central console, and video clips can be securely shared through the cloud with password-protected links so security personnel and authorities can take necessary action. OWS is a secure, reliable system that makes managing your video surveillance systems easy.
End-to-End Recording Solutions
OpenEye offers complete solutions for video surveillance. The company's video cameras range from 3 MP to 12MP resolutions and come in various dome, bullet, and PTZ (pan/tilt/zoom) options. OpenEye Apex VMS (video management software) server can work with other recording systems and be bundled with OpenEye's own NVR (network video recorder) solutions. VMS its tightly integrated with OWS to leverage the power of the cloud for centralized management and monitoring while maintaining the video quality, network efficiency, and fast performance of local recording. OpenEye NVR servers include 2U and 4U rack options, RAID, SSD operating system drives for speed, redundant power supplies, and front swappable drive bays for quick repairs and upgrades. For less demanding environments, plug and play NVR appliances give smaller businesses and organizations easy to deploy turnkey solutions.
DMP Alarm System Integration
DMP is a longtime provider of alarm panels, and OpenEye OWS has partnered with the company to offer seamless two-way integration for powerful security management. OWS can capture zone alarm, door access, and arming status events from DMP control panels. Apex VMS can also send camera-detected events to DMP panels. Video events can be viewed on the DMP Virtual Keypad app or a web browser. The integration adds the ability to set intelligent rules for alarms and events to reduce false alarms. IP integration between Apex server and DMP panels eliminates the need for custom wiring between the panel and the video recorder. This flexible, smart integration allows organizations to make the most of video surveillance and alarm systems by combining the power of both for enhanced premises security.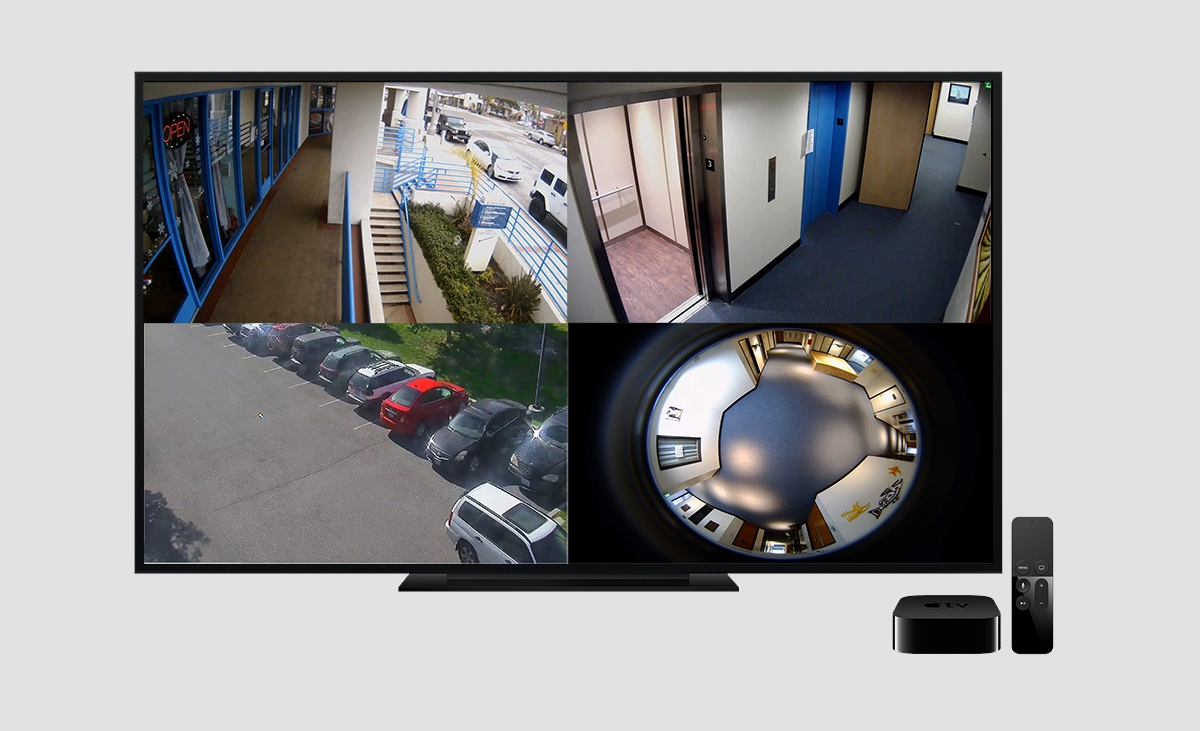 OpenEye Mobile and Apple TV Apps
OpenEye leverages cloud management to make it easy to access and view video feeds through mobile devices on both IOS and Android, as well as Apple TV. The mobile apps can be configured to receive push notifications for health and video event alerts for quick action. Users can view multiple camera views, use portrait or landscape mode for viewing quality, listen to recorded audio, use two-way audio to communicate through audio equipped cameras, control PTZ cameras, and more. With the Apple TV app, camera feeds can be viewed with single or quad feeds on any TV or monitor without complicated video distribution setups. Apple TV remote can be used for switching between recorders, cameras, and views, making it easy for most staff to utilize. These advanced mobile and Apple TV apps extend the power of OpenEye video surveillance to smart devices that everyone uses.